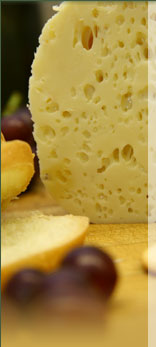 CALL (717) 872 - 7913
Shipped Fresh To Your Door!
Kiefer's Cheese List

Click to View Larger

Amish Swiss Cheese

A mild, nutty flavor and creamy texture is what makes Amish Swiss stand out. Its smooth consistency and distinctive flavor is perfect for ham & cheese sandwiches, for snacking, or for cooking.
Amish Sharp Cheese

Amish Sharp Cheddar is aged for 2 years and is a great option for those looking for a moderately sharp flavor that is not over the top. This cheddar is both crumbly and smooth. Serve at room temperature with wine and crackers for the ultimate burst of flavor.

Click to View Larger

Jarlsberg Swiss Cheese

Jarlsberg is a traditional, hard, Norwegian creamery cheese. The world's most famous Baby Swiss, Jarlsberg has the consistency, texture, and hole formation of swiss. However, its flavor is sweeter and more nut-like. Can be used as a table cheese, dessert cheese or sandwich cheese. Serve it with wine and crackers!

Click to View Larger

Creamy Longhorn Cheese

If you are looking for a mild table cheese, this is the one for you! Part of the Colby family, this cheese is perfect for sandwiches, cubing for salads, or simply snacking with hard pretzels.

Click to View Larger

Asiago Cheese

Made in the region of Vicenza and Trento, this is a traditional farmhouse hard cheese. A long and slow maturation process creates a nutty, slightly sharp cheese with a compact, granular interior full of small holes. Can be grated and used as a condiment.

currently unavailable

Click to View Larger

Blue Cheese

This is a white cheese with blue veins and sometimes crumbly interior. This cheese has a tangy, piquant, spicy, and peppery flavor. Use as a salad dressing or with cream cheese for a spread.

Click to View Larger

Creamy Havarti Cheese

Havarti is a traditional, semi-soft cheese. Has added cream which softens the cheese for a more luxurious flavor. Has irregular holes throughout.

Click to View Larger

Creamy Dill Havarti

This is the same cheese as the Creamy Havarti, but has dill mixed throughout. A traditional, creamy, semi-soft cheese. Has added cream for a more luxurious flavor.

Click to View Larger

Muenster Cheese

Muenster is a creamy American Cheese that has an orange rind with a white interior. Has a very mild flavor and smooth, soft texture. Melts very well, and is often used for meals such as grilled cheese sandwiches and tuna melts.

Click to View Larger

Farmers Cheese

Part-skim milk makes Farmers cheese a low-fat option that does not sacrifice taste. Farmers cheese mild taste and moist texture make it a great substitute for ricotta or mixed with roasted red peppers, sliced olives, and fresh herbs to make a tasty dip.

Click to View Larger

Vegetable Farmers Cheese

Cheese lovers rejoice! Farmers cheese is a low-fat option for cheese lovers who are counting calories, but do not want to sacrifice flavor. The garden vegetables infused into the cheese help boost its flavor, while the part-skim milk reduces the fat content. This soft cheese is perfect for slicing or cubes. Use on a sandwich, melt over a hamburger, or simply enjoy as a snack!

Click to View Larger

Horseradish Cheddar Cheese

Fresh ground horseradish mixed with a mild, creamy cheddar packs a pungent flavor horseradish fans will love. Enjoy the tasty combination of horseradish and cheddar with crackers and wine or simply as a snack.

Click to View Larger

Smoked Horseradish Cheese

A horseradish lovers dream! Genuine cheddar cheese with real ground horseradish blended throughout is smoked with hickory wood. Get that breath taking punch of horseradish and a smooth smoked flavor at the same time. Perfect for roast beef sandwiches, burgers, or paired with a glass of your favorite wine.

Click here to buy


Click to View Larger

Buffalo Wing Cheddar

Hot, hot, hot! Habanero peppers, jalapeno peppers, cayenne peppers, and hot wing sauce give this cheddar a seriously spicy flavor. Much spicier than hot pepper jack cheese, buffalo wing cheddar is sure to set your mouth on fire! Enjoy with pretzels, crackers, on a sandwich, melted over a burger, or grated for a spicy taco topping.

Click to View Larger

Hot Pepper Jack Cheese

Hot pepper jack packs the flavor spicy food fanatics crave. Hot peppers mixed into an American cheese base adds a nice kick to any most dish, and is ideal for shredding over tacos or quesadillas or to add a spicier component to a cheese tray.

Click to View Larger

Smoked Cheddar Cheese

A crowd-pleasing, velvety smooth mild cheddar that is smoked with real hickory wood, not artificially flavored. Great melted on burgers, paired with crackers, or for a party tray.




Click to View Larger

Low Fat Heidi Ann/Lacy Swiss Cheese

This low-fat, low-sodium Swiss is a great alternative from regular Swiss cheese for anyone who is on a diet or is watching their salt and fat consumption. Has small holes throughout. Use it for sandwiches, or a table cheese.

Click to View Larger

Smoked Bacon Cheddar Cheese

Hickory smoked bacon mixed throughout a mild cheddar is a super tasty treat! Get that wonderful smoked bacon flavor and smooth texture of the cheddar all in one bite. Perfect for burgers, melts, sandwiches, or cubing for party trays.

Click to View Larger

Garden Onion Cheddar Cheese

This smooth, creamy cheese is hard to find and very unique. Mild cheddar makes up the base cheese, and garden onion is mixed throughout. Nothing hot is in this cheese. The onion flavor is very mild. Most uses are for burgers, sandwiches, party trays, and table cheese.
Horseradish Bacon Cheddar Cheese

Bacon makes everything better! Hickory wood smoked bacon and real ground horseradish are blended to create a smooth, creamy, and zesty cheese. Perfect when melted on a bacon cheeseburger or cut into wedges for a rolled deli meat tray.
Mozzerella

This is a part-skim milk mozzerella cheese. Great for making homemade pizza! Or great on sandwhiches. This is a soft, rubbery like cheese. This is not the fresh mozzerella that comes in a brine.

Roasted Garlic Cheddar

This is a base cheddar cheese that has roasted garlic mixed into it. If you like garlic you'll love this cheddar! Great for cheese trays, burgers, sandwiches, or whatever you like.
Low-Fat Vegetable Yogurt Longhorn

Garden vegetables and yogurt cultures make this a lower fat Colby style cheese. Vegetables such as peas, carrots, and celery give this mild cheese a delightful flavor for those looking for something tasty, but not spicy.
Low-Fat Yogurt Longhorn

Low-fat doesn't have to mean low-flavor. Made with yogurt cultures, this cheese is flavorful, but is still lower in fat than regular Longhorn cheese. This cheese is in the Colby family and is similar to cheddar, but is milder, softer, and moister. Excellent when sliced for sandwiches or cut into cubes for a cheese tray.
Yellow Longhorn

Yellow longhorn is a form of a cheddar. It has a mild flavor. It is great for cooking, or simply enjoying with your favorite snack. Has a creamy texture that is very smooth.
Shenk's Cup Cheese

Shenk's Cup Cheese is a unique cheese spread that is Fat Free!! It comes in three flavors. Mild, Medium, and Sharp. Cup Cheese is said to resemble the flavor of a French Brie. However, it is somewhat of an acquired taste. This is one of Lancaster's oldest types of cheese! Try a taste of Lancaster!